The foundations of Has Turizm which carries hundreds of land vehicles as well as cargo and people over three continents were laid at the beginning of 1900's. By 1940, the grandfather Kamil İsmail Kara had worked as a postman on horseback. Later İsmail and Mehmet Selim Kara brothers started stone transportation and stone quarry business by horse-drawn car.

Starting out to make the first trip between Antakya - Ceyhan - Adana - Tarsus - Mersin line in 1952 with a truck-like bus, the brothers have taken their first steps in transportation sector. The brothers who started to open out abroad with Otomarsan's commencement to manufacture coaches perpetuated their new market searches starting with Lebanon with the decision to enter into Saudi Arabia in 1974. The company started international group transportation in Saudi Arabia as Has Turizm in 1975. The company carrying Syrian as well as Turkish pilgrims to Saudi Arabia with pilgrimage organization, started to collaborate with Saptco (Saudi Public Transportation Company) following its foundation in 1979 and to carry out transportation for pilgrimage business.

In 1977, Has Turizm has made the fist move by starting bus trips from Syria to Romania, one of the iron curtain countries of the period, over Istanbul. Has Turizm has made another first move and started trips to Egypt over Riyad, Damman, Cidde and Akabe in 1985. Has Turizm has started to take part in the Pilgrimage Organizations in Turkey from 1986 on. Every year the company assumes a grand responsibility on holy lands with the buses rented from all over Turkey besides its own vehicles for pilgrimage. It has managed to transfer millions of world pilgrims to holy lands to date with up to 3000 buses and 6000 drivers in some years. In 1988 Has Turizm signed its name under the success of transporting the crew and students of Ibn Khaldon, the Iraqi-flagged military school vessel between Iskenderun - Iraq - Basra. During the historical changes that have taken place in the world (the political developments in Soviet Union, the unification of Eastern and Western Germany) when the Turkish companies were awarded major tenders in the afore-mentioned countries, the Turkish workers were carried by Has Turizm.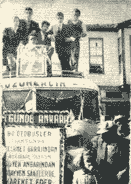 Permanently keeping track of the economic and political status in its own region, Has Turizm has taken part in the organization for carrying 5,000,000 Yemeni citizens from Saudi Arabia to Yemen during 1990 gulf war. Putting its signature under considerable dispatches at the time, Has Turizm has also undertaken transportation operations in the countries where the workers of big companies like ENKA, Alarko, Tekfen, Gama, Tekser, Garanti Koza, Çukurova, Baytur, Mir İnşaat used to work. Today Has Turizm keeps up competing with its service on an expansive geography that stretches from Yemen in the south to Siberia in the north besides Turkey.